Through the Catchlight app on Salesforce, you can quickly and easily add data and insights to lead profiles, giving marketing, business development, and advisors a unique view into the background and anticipated needs of your leads.
Lead enrichment data may include estimated investable assets and income, age range, home ownership, education and employment history, life events, personal interests, hobbies, and more.
All of this data can help business development representatives and advisors make more meaningful connections with prospects.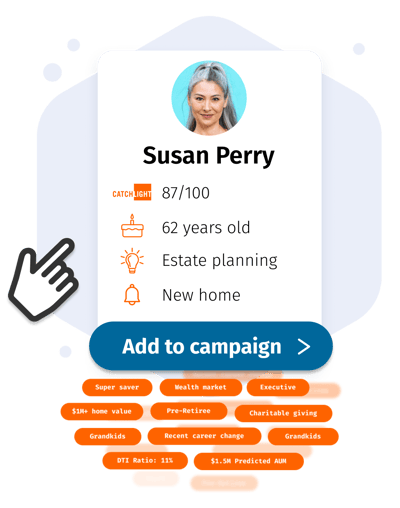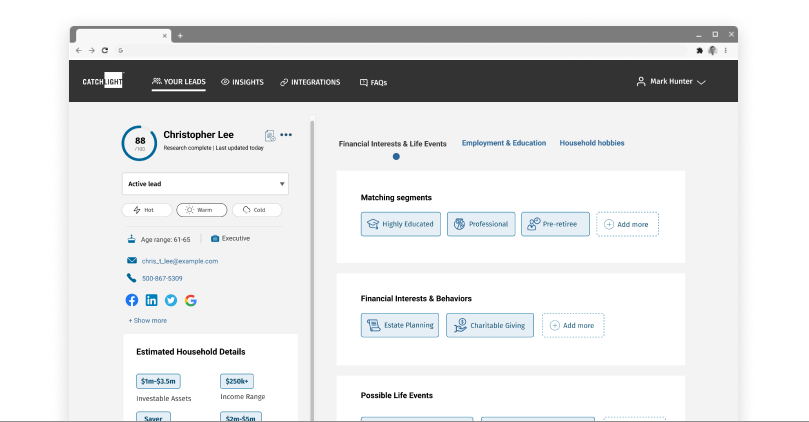 We utilize institutional-grade data from first party sources
We gather up to 2,000 data points on any given prospect and run it through models that were developed to predict likelihood to convert. We continuously test by leveraging proprietary data sets from global institutions. We take data seriously so that advisors can focus on growing their firms efficiently and effectively.

Lead Enrichment & Prioritization

Individual Profiles & Engagement Ideas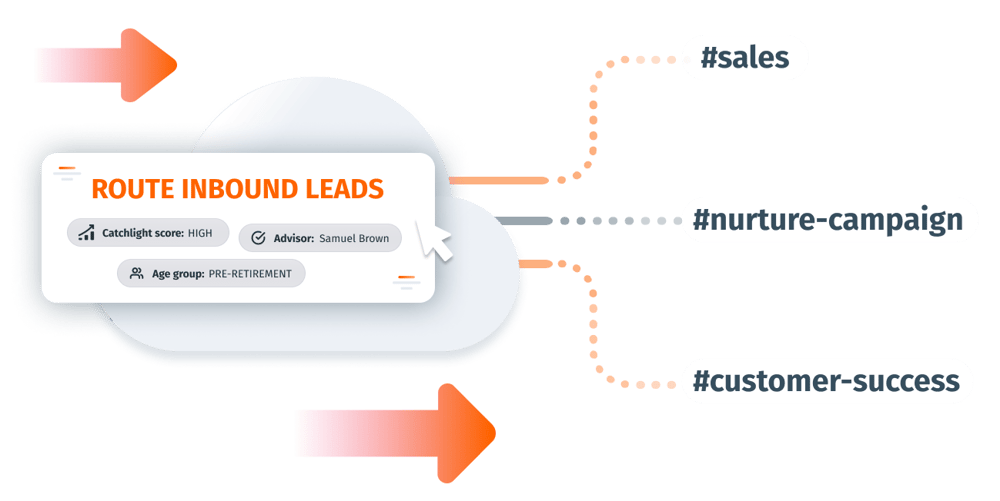 Using Catchlight's unique profile insights, leads can be routed to the right resource or added to the proper campaign based on existing workflows.
For example, a new lead enters Salesforce and through the Catchlight enrichment process, it is found that the lead is a business owner, nearing retirement, and has $1M+ in investable assets. This new lead can be routed to the advisor best equipped to help this individual with their specific goals.
Not only will the Catchlight app on Salesforce enrich net new leads, you can also build enriched profiles for existing records. Adding additional data and insights on existing leads can give you a new perspective on old names. You'll be able to create segments such as HENRYs who have received company stock, or affluent/mass affluent white collar professionals who may be in the market for estate planning.
Defining segments with Catchlight insights can help improve your nurture campaigns helping to ensure that you are delivering the right messages, to the right prospects, at the right time. All enabled by Catchlight.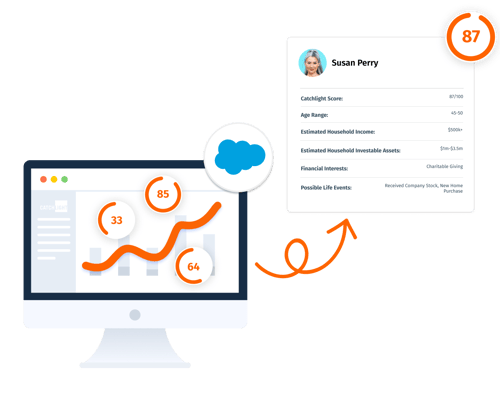 Let's talk about helping you improve prospecting with the Catchlight Salesforce app