Financial advisors manage a tricky balance between helping clients achieve their goals and prospecting for new clients. Your time is even more precious in today's challenging market, so you need the right marketing balance to stay ahead. This two-part series is designed to help you strike that balance.
In the first part, we cover four marketing ideas powered by customer insight, prioritization, and personalization.
Financial Advisor Marketing — Challenges and Channels
Marketing Challenges for Financial Advisors
With the markets down, your clients may be more vulnerable to competitors. So, it is an excellent time to step up your client communications. Plus, advisor fees could be declining, so attracting new clients is even more essential. According to Kitces, a typical advisor spends 9 hours weekly on new business. You want that time to count.
That's why we're sharing growth marketing ideas that can be both powerful and efficient.
Financial Advisor Marketing Channels
New opportunities for Registered Investment Advisors (RIAs) are sizable. We shared in our September 19, 2022 blog that the Great Wealth Transfer may generate 10s of millions of potential new wealth management clients for the industry. According to Cerulli Associates 2020 estimates, approximately $25Trillion will change hands between generations.
Who among them will get their financial planning advice from you? With a comprehensive marketing plan, you'll help them find you, engaging your current and prospective clients where and when they are looking.
Online and Digital Marketing

— attract and engage existing and prospective clients via your website, social media, email, video, podcasts, blogs, and more.

In-person Marketing

— host live events, seminars, and webinars for current and prospective clients.



Regardless of the marketing channel, having high-quality content and programs can help you earn your clients' and prospects' trust and confidence.


Financial Advisor Marketing Ideas That Work — Prioritize Your Leads
Over 100 years ago, retail titan John Wanamaker said "Half the money I spend on advertising is wasted; the trouble is I don't know which half."
How do we find the correct half? The simple answer is to target the right people – those most likely to become clients — with the ideal messaging.
Marketing Tactic #1 — Prioritize Financial Leads
Time is the only resource you can't replace. Targeting the wrong people with your marketing efforts is a surefire way to lose valuable time — not just the time spent on a fruitless activity. The longer time elapsed between activities that bring on new business is a problem too. Prioritizing your prospects and leads can increase your efficiency throughout every step of the marketing and client journey.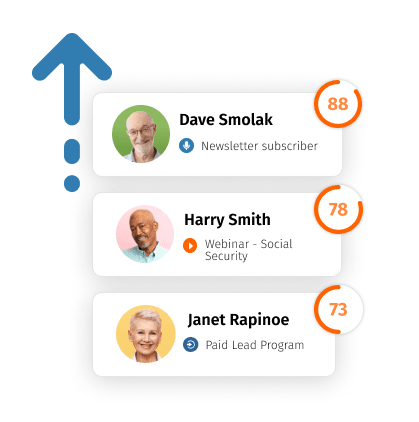 Large competitors have analytics departments and may use 'propensity to buy' models that help prioritize and segment leads.
This financial lead scoring requires sophisticated big data and artificial intelligence (AI) for financial advisors, which was previously too expensive for most financial advisors. Fortunately, recent innovations have democratized advanced analytics, putting enterprise-level capabilities in the hands of Registered Investment Advisors (RIAs) of all sizes.
Prioritizing leads can profoundly affect your marketing effectiveness:
Increase outreach productivity. If you can identify the 25% of your list with a higher probability of converting, you could make more progress with less than half of the calls.
Guide your marketing focus. You can focus on the topics and messaging of most interest to a smaller group instead of promoting everything to everyone.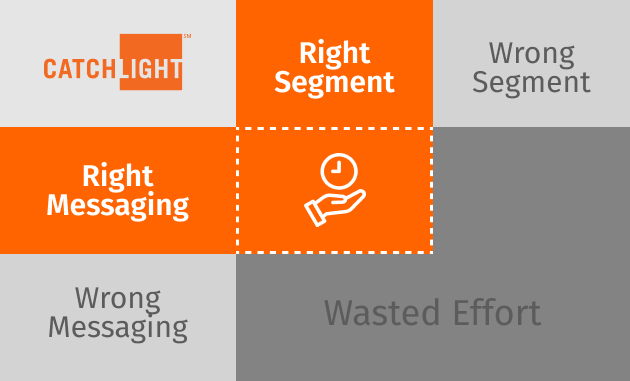 Financial Advisor Marketing Plans That Work — Personalize.
There's an adage, "the first rule of business is to stay in business." And one of the best ways to stay in business is to maintain the loyalty of your hard-earned clients. However, your best clients may also be your competitors' best prospects. We like to say, "your customers are yours to keep."
And, let's face it, a lot of that retention comes from knowing your clients better than your competitors can.
And from your clients and prospects knowing you better than they know your competitors. For example, ideally clients know your great track record, feel that you have a sincere interest in their needs, and deliver great service.
Each is in your control, and highly personalized interactions can help ensure your clients are happy about all three.
But how personal can you be with them if you have 100 clients and hundreds of prospects? Technology can help enrich your client data and relationships while saving you time along the way, as you'll see in the following two approaches.
Marketing Tactic #2 — Highly personalized client and prospect lifestyle events
Engage clients personally with small, exclusive events centered on their favorite hobbies or interests. Ideally, you can find interests beyond the typical golf outing. Can you identify a common theme of interest within your client and prospect bases?
For example, imagine if you knew that 15 of your top clients and prospects are close to retirement and are avid boaters. You could earn serious loyalty points by bringing them together at a local boat show.
Your thoughtful planning could subtly remind your clients about the personalized service you deliver. Plus, your clients meet each other – your other happy customers – reinforcing their high regard, which could help in driving more referrals. Also, it's great when a happy customer can sing your praises to a prospect.

Marketing Tactic #3 — Highly Targeted Financial Seminars
You've likely hosted your fair share of financial seminars. Typically, we first find a topic of general interest. Then we promote it to attract current and new leads.
Imagine if, instead, you already know about common concerns across your clients. For example, what if you knew that 25% of your clients and prospects are tech workers who recently received stock and have children starting college soon? You can hold an exceptionally targeted seminar on Smart Strategies for Handling Stock Grants When Planning for College.
Where will you find this information on your clients and prospects? Tools exist right now that enrich client and lead data with information on life stages, career stages, hobbies, interests, and most importantly, intent data and probability of conversion.
Marketing Tactic #4 — Targeted Financial Seminars for Prospects
With today's modern tools, you can know almost as much about your prospects as your clients. You can produce events highly targeted toward your prospects too.
We return first to Tactic #1 – prioritize your leads. Before you choose your topic, select your audience. You can follow the same path for prospects, with highly targeted events that will attract the right people and convert at a higher rate.
Who are my top prospects? What do they have in common? Recent career transitions? Boat enthusiasts?
Example: Of my top 100 leads, 40% are 'future inheritors' with 'New Teen Drivers'. How about an event titled: Inheritance Planning for Parents with Teens.
Financial Advisor Prospecting Is about Knowing Your Clients and Leads
Financial Advisor Marketing Competition is Fierce
You will never find a shortage of ideas to attract and retain financial services clients. And won't run out of competitors. However, you will run out of time. Therefore, it's essential, especially in today's market, to know your clients and prospects better than your competitors possibly can.
You can't afford to waste time on leads less likely to convert.
For the prospects most likely to convert, you can't afford to know less about them than your competitors do.
Powerful Marketing Technology for Financial Advisors
How can you come out ahead in client and prospect insight and intelligence? The playing field for customer insight is becoming more democratized every year. You can access insights on your audiences previously available only to the largest financial institutions.
With this knowledge, you can focus your scarce marketing time on the right audiences – the people most likely to convert to clients. And you can select the right ideas to capture their hearts and minds.
The Financial Advisors who adopt and leverage these technologies could have a distinct advantage in winning new business and retaining their clients' loyalty.
1052516.1.0