We talk a lot about using segmentation to help define your current client base as well as to prioritize your prospects. We think that segmenting an audience is key to making sure that you can deliver the right message to the right user thus optimizing engagement. We are taking the idea of segmentation to a new level with two new features that we've recently released – Client Insights and Prospect/Client Look-a-Like. Read on to learn more.
Client Insights: Now available in beta!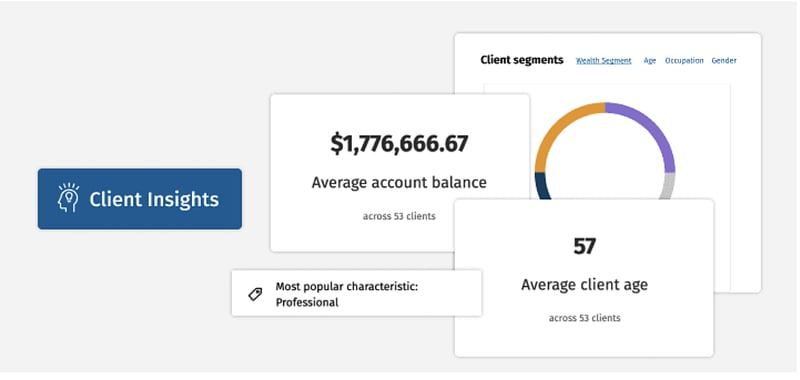 For illustrative purposes
Within Catchlight, you can now analyze your clients with the Client Insights feature. Client Insights leverages our upgraded insights engine to reveal valuable big-picture data and engagement opportunities for your existing clients.
By leveraging Client Insights, you can see similar analytics on your book that you can currently see in Catchlight for your leads (age range, wealth segment, occupation/industry, popular characteristics, top financial interests, average account balance [provided by you], etc.).
In seeing the birds-eye view of your book, you will have additional insight into which leads and business development opportunities to focus on...More of the same? Growing into a different segment? Time to change marketing strategy?
Lead Look-a-Likes: Find leads that look like your best clients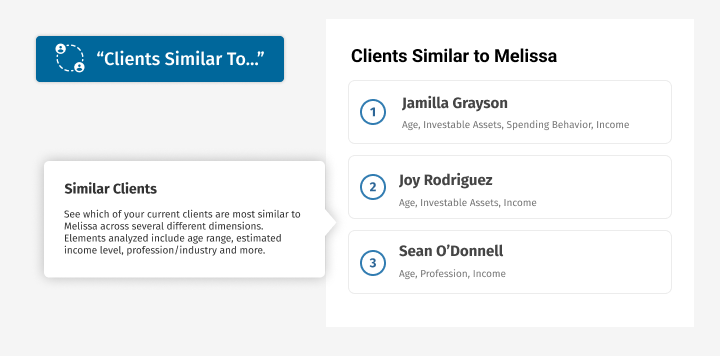 For illustrative purposes
After adding your book, you'll also now be able to see your clients that are similar to a lead on the Lead Profile page. Matching is driven by a number of factors including: Age Range, Estimated Investable Assets, Income Range, and Spending Behavior. By knowing which clients a lead is similar to, you can fine tune your pitch to resonate more strongly with that lead.
We hope you like these new features as much as we enjoyed building them.
1066561.1.0