Last week I had the honor to represent the Catchlight team at the prestigious 2023 WealthManagement.com Industry Awards. I was thrilled when they called out Catchlight as the winner of "the Wealthies" in the Marketing Automation category. It's a fantastic achievement that we couldn't have accomplished without the unwavering support from our valuable customers, dedicated and mighty team, as well as the support we receive from colleagues in Fidelity Labs and across the Fidelity organization. I'd like to take a moment to celebrate and express our gratitude!

The Journey Towards Success:
A small handful of us started this journey 3 years ago – interviewing countless advisors about their challenges, creating predictive models, studying data sets, and ultimately coming up with a business plan for Catchlight. We built an AI powered platform that gives financial advisors unique insights on the leads on their prospect list to help them accelerate their business development efforts.

Winning the Wealthies Award is a testament to the hard work, innovation, and dedication of our entire team. We have always believed in the power of data and AI to transform the financial advisory business and streamline processes, and winning this award validates our early belief that data can help accelerate organic growth.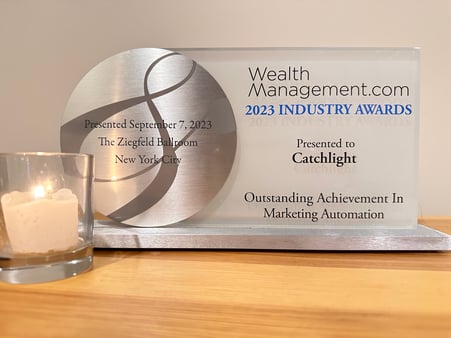 Our customers, especially those that backed our vision in the early days, have been an integral part of this journey. Without their trust, feedback, and continuous collaboration, this achievement would not have been possible. We are grateful for their belief in our products and services, as it constantly pushes us to go above and beyond to exceed their expectations. We value their loyalty and will continue to deliver remarkable solutions tailored to help them drive growth.

Our team is the backbone of our success. Their passion, expertise, and tireless efforts have propelled us forward, driving innovation and fostering a customer-centric culture. It is their dedication and hard work that has enabled us to create cutting-edge solutions that we believe truly make a difference. We owe this victory to each and every member of our team.

A Supportive Company Culture:
At Catchlight, we believe that success is a collective effort. We foster a supportive and empowering work environment where creativity and collaboration thrive. Our employees are encouraged to share ideas, challenge the status quo, and push the boundaries of what is possible. This award is a testament to our unwavering commitment to nurturing a culture that values innovation and recognizes outstanding achievements.

Looking Ahead:
As I reflect on this achievement, I also recognize that this is just the beginning of our journey. We publicly launched Catchlight just over a year ago. Winning the Wealthies Award reaffirms our position as a leader in the industry and motivates us to continue raising the bar. We are determined to keep pushing boundaries, innovating, and delivering unrivaled solutions that drive success for our customers.

Our commitment to excellence remains unwavering. We strive to continue to invest in research and development, listen to our customers' feedback, and stay ahead of the curve. Our aim is to not only meet their expectations but to exceed them, opening doors to new possibilities and driving growth.

I extend my heartfelt gratitude to everyone who has contributed to our success. Without you, this achievement would not have been possible. Let's celebrate this milestone and continue our journey towards excellence. Together, we will redefine possibilities and shape the future of our industry.
Onwards,
Wilbur
1106437.1.0