We are excited to announce not just one, but two exciting updates to the Catchlight platform: "Top Three for Today" for a quick hit of fast recommended actions you can take to help drive prospecting and a re-vamped "Engage Now" panel that wraps all the great Catchlight outreach tools into one convenient place.
Top Three for Today
Feeling stumped about what to do to engage your prospects? Need some ideas to get going with your next campaign? The "Top Three for Today" panel is now available for a shot of inspiration. Catchlight analyzes your prospect list and provides some quick tips and insights that you can use to help drive prospect engagement; check out your own personalized "Top Three" right on the Lead Insights section of the app.
Engage Now
Our engagement suggestions are one of our most loved features—and now they are even better. We've taken our AI-generated emails feature out of beta and rolled it into all of the other great ways that you can choose to engage with leads (pre-written Catchlight emails, FMG content library recommendations, and discussion topics). Now with a smartly designed, one-stop shop for all of your personalized outreach, you're ready to ramp up your prospecting.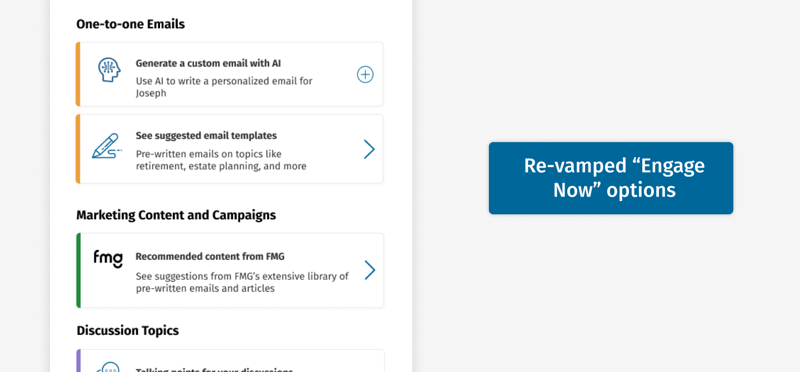 1097023.1.0